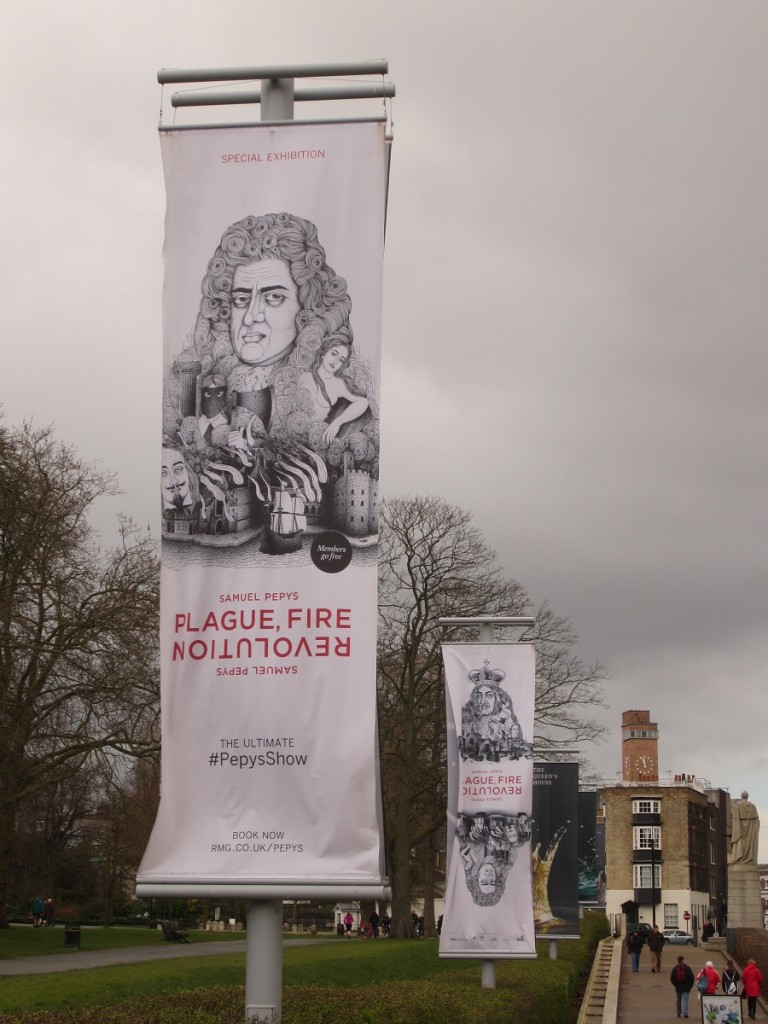 You know what it's like when there's something right on your doorstep and you don't think to have a proper look at it because you can see it anytime… and then, too late – it's gone? Well, I was in danger of missing out on the Pepys exhibition at the National Maritime Museum in Greenwich for exactly that reason. Right on my doorstep and months of good intentions to visit culminated in a last minute dash on the penultimate day of the exhibition.
And was I please I did!? It was up to the usual high standards of the Maritime Museum – imaginatively laid out and engaging, covering all the usual amazing highlights of that one decade in the 1600s.
Beheading God's chosen ruler, a brief flirtation with republicanism, a deathly epidemic and a big fire. Everything covered with great images, portraits and exhibits. The Restoration theatre kept me entertained for ages, moving only to ease my achy bum from the hard benches. The animation depicting the Great Fire of London with voice-over reading from Pepys' diary was very well done; exciting and poignant, and again moving only to reduce the pain caused by the hunting stool-style seats which were too narrow for my chunky hindquarters.
With each area covered by the exhibition is an interactive screen with images from the diary. Touch the screen and a translation of Pepys' shorthand allows you to read his entry, with highlighted sections annotated for further clarification. In the plague section I was very excited to read about his witnessing a plague victim left out for collection in a lane by Coome Farm. Excited, because thats my home! Not the farm itself, but my home is a Victorian terrace build on land once belonging to the aforementioned 'Coome Farm'.
It had fashion, art, science, architecture and a real taste of the period. So much so that I feel I need to read his diary in full. (Something I'm a ashamed to say I've never done.) There were 'Eureka!' moments when I thought, yes, that explains it all, moments of clarification in the complicated line of Royal succession and, finally, the great realisation that, in my opinion, Sir Christopher Wren was a dead ringer for Christopher Walken.
Apart from the slightly uncomfortable nether quarters, I don't think I'm able to find fault with the exhibition, and had I seen it sooner, I would have definitely been back for a second viewing.
If you are in Greenwich on bank holiday Monday, go and see it – 28 March is your last chance. Worth the trip – I promise you!