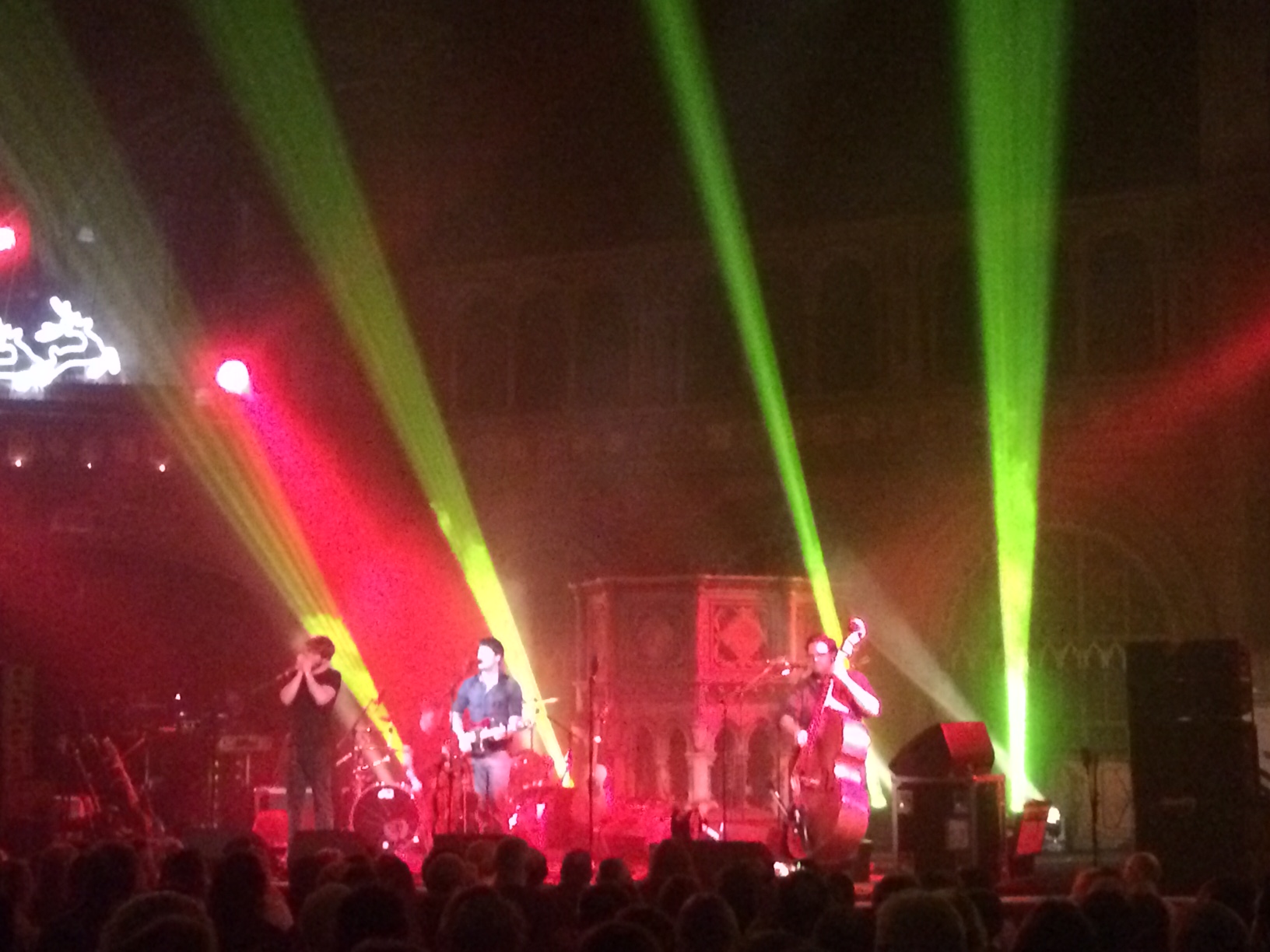 Mr Donkin, my enthusiastic history teacher, tried his hardest to make the historical relevance of folk music of interest to a bunch of 13-year-olds. He failed miserably. He should have waited a few decades to introduce us all to Seth Lakeman.
I saw him last night at the Union Chapel in Islington. (That's Seth Lakeman, not Mr Donkin.) What an amazing venue and what a stonking gig!
I'll admit I wasn't sure about the venue.
It's fine, said Mr Jenkins, it's an old church and you sit in pews.
Still wasn't convinced – but hey, worth a go.
We got there early enough to see the support band. I wasn't sure who they were. In truth, I'd just let Mr Jenkins arrange the whole thing, with my input being a brief 'Yup' to the question, 'Do you fancy seeing Seth Lakeman?'
The Union Chapel is an incredibly atmospheric place. The lovely stained-glass windows are still in place to complement the stage lighting, with a Christmas tree and some illuminated reindeer thrown in for seasonal good measure.
There's a bar and I fancied a drink, but it was on the opposite side of the venue from where we'd chosen to sit. Handy for the loos, but not the bar. I considered struggling through the pews to get a pint, but I noticed that most of the audience with drinks where holding on to bottled water or a mug of something. I wondered if it had been a Methodist chapel and in fact the bar only sold tea, or was there some by-law about having to serve lager in a mug to appease the relevant gods. Or perhaps they just didn't allow alcohol into the auditorium, cos I sure as hell saw no-one drinking alcohol near me. But the guy in front did have a hot chocolate with marshmallows. And the guy two rows in front was cuddling his mug of tea with one hand and cupping a Tunnock's foil-wrapped Tea Cake with the other.
Before I could consider the plot of Alan Garner's Elidor (about slipping from one dimension to another inside a decommissioned church), the lights faded and the support band started up. I haven't had such a delightful surprise in ages. Beautiful voices and acoustic folk music reminded me of Simon & Garfunkel, but they were women, and there were three of them, so there was another, deeper level to their impeccable harmonies. But there was also something Bluegrass there, mixed with a bit of Celtic – like Pictish Trail meets the Soggy Bottom Boys. Before the end of the first song, I was checking my phone to find out who they were.
Wildwood Kin – that's who. Check them out, they are something else.
They finished their set and we all clapped enthusiastically. There was some whooping too, but we all stayed in our pews. I think the combined memories of the audience (averaging the age of 50, I reckon, but ranging from mid-20s to nearly-90s) forced us to remain seated and respectful in our pews (or was that just me?). I know I used to fear the uppy-downy dance on a Sunday morning, especially when I joined my friend at her Catholic church. It was a dance I didn't know the steps to and often missed the beat, standing when I should be sitting, kneeling when I should be standing. It was safer to keep with the crowd, and so I did at the Union Chapel and remain seated.
Even when Seth Lakeman arrived and invited us to get up and dance in the aisles, we pretty much remained seated – except for one lone women at the far side near the bar. I admired her from afar for her confidence, but remained in my pew. The audience in the gallery were more enthusiastic though.
It wasn't actually until the encore when Seth told us to get up, that we all, every last one of us (except for the 70-odd year old bloke just down our row and a woman with a crutch), rose up and gave the music the attention it deserved.
It seems I'm a little more taken with the antics of the audience, than with the gig itself. Not true – not true at all! It was amazing! During the short and perfectly formed solos I didn't have time to let my mind wander to interesting diversions like 'Is Seth short for something?', 'Why is the audience still sitting down?' and 'Does playing the violin like that hurt your neck?'.
The band were dynamic. Seth was funny and engaging between songs. The music was, like, amazing. There were a few songs I didn't know, but we were asked to join in anyway. I probably would have obliged with the singing if I'd been standing in normal gig circumstances, but I was sitting in a pew and the guy in front would have had my tuneless drone spoiling the gig, and I found myself mouthing the word I did know in homage to my time spent in church as a girl.
What I hadn't realised was that the support band were even more supportive in the main event. New songs from a collaboration between Seth Lakeman and Wildwood Kin were aired and when the rest of the band returned to the stage, the women hung around in the background to provide backing vocals and some Celtic reels.
The music roller-coastered from beautiful ballads to breakneck-speed fiddling – it was dynamic and forced you, even seated, to pew dance and the floor bounced and vibrated with tapping feet and clapping hands and pew drumming. It is always such a pleasure to experience accomplished musicians playing a great set.
It was an awesome night of music, full of atmosphere, new musical finds and a slightly numb bum thrown in for good measure!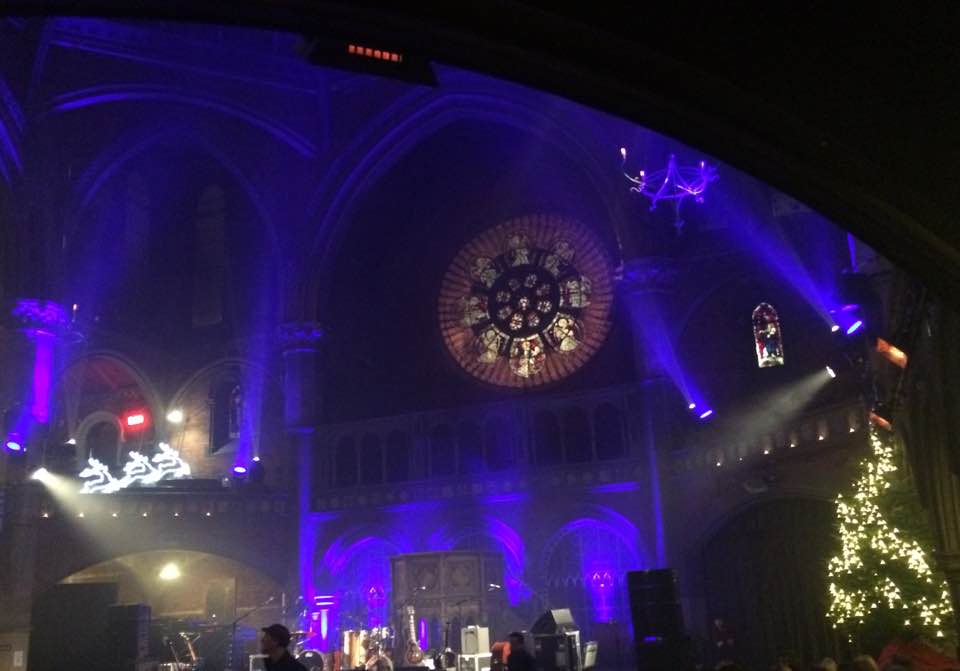 The new album Ballads of the Broken Few is available on CD & vinyl.