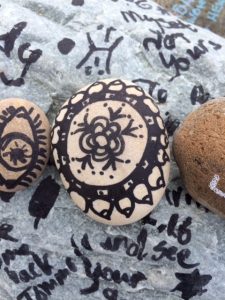 Pebble Homage has been going on in Aldeburgh for the last 12 months. It's a great idea – enjoy the pebbly beach, pick up a stone and imbue it with your thoughts. Some people have simply added their name, others have embellished with the art of illustration rather than words, and then there are other much more intellectual offerings.
The participative art installation at the Aldeburgh Beach Lookout has been running alongside the Antony Gormley installation on top of the Martello Tower further along the beach. The suggestion is to add a thought to your pebble inspired by the walk to the tower. Sadly, I'm not sure all participants had read the blurb!
Our walk to the Martello Tower was interrupted by sea wall works and we were diverted through the yacht club to get to our destination. Not actually sure if we were trespassing, but it was worth it to get a closer view of Gormley's sculpture – one of a series of five figurative pieces called Land commissioned by The Landmark Trust. From the base of the tower, the human form seems to be constructed from numerous weathered metal cubes of varying sizes, looking rather like Iron Man contemplating the magnificent and powerful view of the churning North Sea. Gormley would like us to reflect alongside his five sculptures; find a moment for meditation and our place in this environment.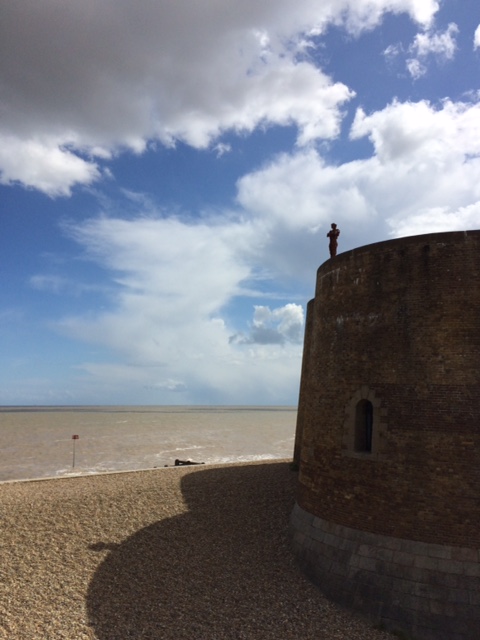 The Pebble Homage too, would like us to look at our relationship with the beach, the waves and the endless sky and bring something noteworthy to our pebble poetry. The pebbles will be returned to the beach waiting for some unsuspecting recipient to benefit from its message. Reading one or two of the stones, I suspect a lot of thought had gone into the process of choosing a clever phrase, not necessarily connected to the experience of stumbling across the beach, but to prove the writer as a serious philosophical being. Few people, though, had managed to get beyond the need to sign and date their pebble. And then there was the one that just said 'Bum'.
So, I suppose in general, there's a lot of self interest that emerges from such contemplation – no surprise there – and it has shown itself in the simplest sense with a name on a stone. But there's a lot of humour too and its strangely satisfying to find one of the decorated pebbles beyond the immediate environs of the Lookout and adjacent table, having already started on its journey to spread its stoney message.
© Sue Jenkins 2016