Those of you familiar with my other work at Greenwich Market will know how much I love looking through old knitting patterns from the 1940s for inspiration. But it's not just the patterns I love looking at – I also love old photos. The Mary Evans photo of the kids looking through the fence featured on the home page is a great image – I never get tired of looking at it.  That hat is just marvellous and has inpired many a pixie hat on my stall.  And the sandal and sock combination…. What can I say!?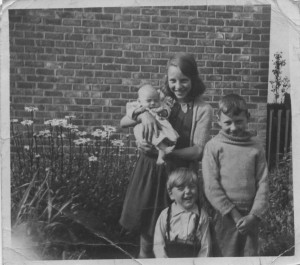 Well this is one from my own family archive and I think it would be amazing to replicate that jumper my dad's wearing on the right there – with all its rips and wear-n-tear.
I also love the large expanse of wall the photographer has managed to capture…..